It's been a week since my last post, but I haven't been idle!
I've been working on the second (pink!) bedroom and since the process is identical to the the first bedroom redo, the info is all the same. It had the same nasty carpet, the same mirrored closet doors except this bedroom had pink walls. Gag! I am now at the point that the floor is almost finished, I'll get that done today and then can start painting.
This bedroom is going to be Bob's workspace for all his little crafty projects – electronics, RC airplanes, solar stuff….and who know what else.  So, we are trying to come up with some creative storage solutions for all his "junk" and still have the room not be an eyesore since it is right off the family room.
Let me insert a note here…Bob's idea of a storage solution is just cramming everything into a drawer, on a shelf, or just leaving it laying around.  I'm not saying he is messy, just that there is some Sus scrofa domesticus DNA in there somewhere. 😉
I decided to remove the doors completely from the closet to open up the room and to turn that, now, cubby space, into built in shelves. I will be giving my new compound mitre saw an initiation on putting the new shelving in there.  We'll incorporate some fabric cubes and other storage solutions such as plastic containers and drawers on the shelves,
To keep the clutter off the worktop, I want to include a magnetic track to keep all those often used tools close at hand but not in a pile on the workbench. I love that this idea also lets you attach cans to the magnets to hold small items.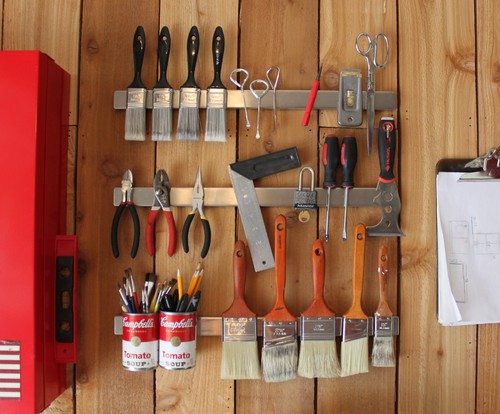 I also want to add some type of cabinet storage, either regular cabinetry or workshop cabinets.  The jury is still out on which we will go with.  One type of cabinet we are considering is a workshop type cabinet.  Sams Club has these and they come in several styles for different types of storage.
There will definitely be some sort of rail wall or peg board included to hang various items.
Lastly, the inclusion of some map drawer storage will be included for flat sheet items and to compartmentalize for smaller items.
A center island, possibly moveable is in the running for inclusion.
Countertops are a big decision.  I say we opt for either laminate (inexpensive, easy to clean and durable) or a wood top that I can make myself.  Kristi at Addicted2Decorating.com has a great tutorial on how to make your own wood countertop.
What suggestions do you have for items that will make this space usable, yet visually appealing?